Top 5 Smart Sneakers
I'm a firm believer that great accessories make an outfit, whether it is a great belt, watch or pair of shoes. It is often difficult to have a shoe or trainer that is multifunctional but also comfortable. Often when I'm travelling or combining a day of meetings with a dinner, I'm looking for one shoe to suit both occasions. When you get the right pair of sneakers they can smarten up a casual look but also work perfectly with a smart jacket and trousers.
Below I have picked 5 pairs I believe fit this claim.
La Monacolow-top
leather trainers
(£225.00)
Moncler really is a brand you can't go wrong with. Their coats are built to an outstanding level with the simplistic detail that creates the appearance of the 'cool' modern gentleman and these shoes don't let this down! A subtle, white leather low top pair of shoes with a maroon-red heel tab compliments the small Moncler logo on the stunning spiked edges of the tongue, all supported by a sturdy cream rubber sole. A simple but very smart pair of shoes with a modern clean look.
What would I wear with?
The beauty of a white shoe it can go with pretty much anything. This shoe would go great with a pair of jeans, shorts or a pair of joggers.
Intrecciato
slip-on suede trainers
(£440.00)
Espresso-brown / black / Charcoal grey suede Bottega Veneta trainers. Flawlessly crafted in Italy with the company's beautiful hallmark intrecciato weave, which adds a lovely texture. Contrasted by the slightly darker shade quarter, they have elasticated side inserts, a mesh lining and rubber sole for comfort along with a smooth suede heel tab with a small piece of the intrecciato weave in the shape of an X. Again, a very simple, modern design with a hint of classic, but it works!
What would I wear with?
This a perfect pair of shoes for a weekend away in the country. Paired with a great pair of jeans white t-shirt and a sports coat.
Spray-effect
slip-on trainers
(£249.00)
Off-White's black slip-on trainers will add a crisp, cool urban touch to your outfit. Crafted from cotton-canvas, set on white rubber soles, and decorated with the label's signature white spray paint-effect diagonal stripes along the quarter with a minimal leather heel tab. A modern, stylish shoe with a slightly young look. But non the less can be flexed by the older dude.
What would I wear with?
Slightly more rock and roll, I would go with a great pair of skinny jeans and leather jacket or bomber jacket.
Adrian low-top
leather trainers
(£310.00)
Acne Studios's navy leather Adrian trainers are a super slick, minimalistic design. I love the colour! This is the sort of shoe that you may see it now and think it will not suit you, but trust me when you have got it on… you'll be loving it. They have a low-top construction with a contrasting peach tone lining and a thick rubber sole platform. If you are looking to add a bit of uniqueness to your style, then I'd definitely try a pair of these out!
What would I wear with?
These would work perfect with a tailored suit and t-shirt.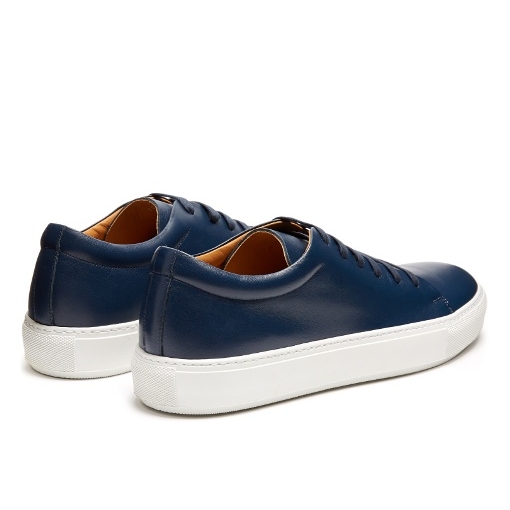 Tournament
low-top suede trainers
(£265.00)
Common projects are one my favourite brands. Everything these guys make is built with ridiculous quality and finish. And of course, these shoes carry on that style.
The Common Projects Tournament trainers are a refined from the classic streetwear style. They're crafted in Italy from black suede and have a sleek round-toe shape that's finished with a contrasting white Margom rubber sole. If you are wondering what the numbers are at heel of the shoes. This is actually the model number.
The first four number are the style, the next two are the size of the shoe and the last four are for the colour. Pretty cool right.
What would I wear with?
For me, these are my essential trainer and one that I wear daily with just about everything.